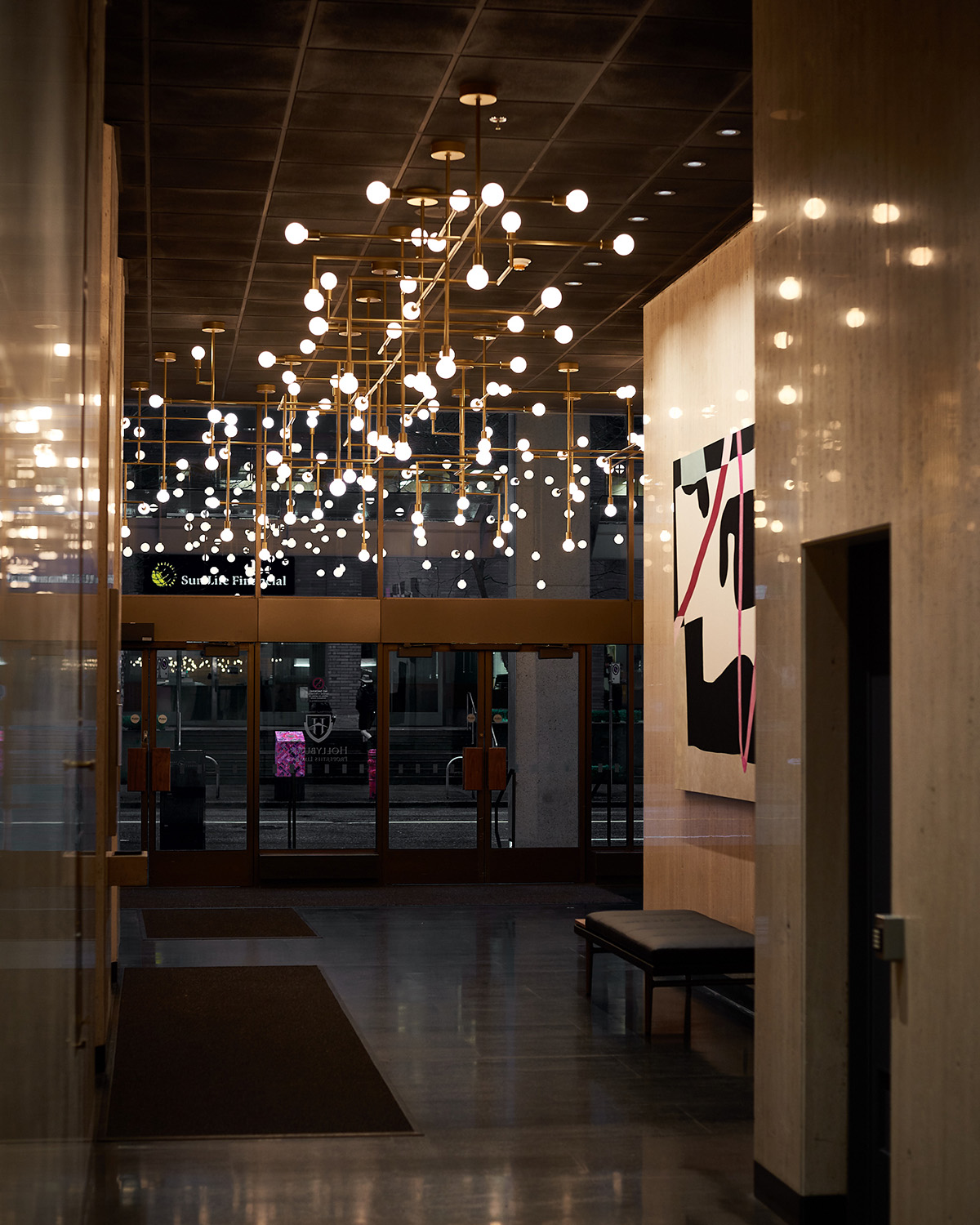 Corporate Office Custom Light Art Lobby
Hollyburn Properties – Lightform
LOBBY LIGHTING INSTALLATION – HOLLYBURN PROPERTIES –  LIGHT FORM
Lobby Lighting Installation.  The incredibly talented team at SSDG working with Lightform commissioned Karice to collaborate on their lighting design for the new lobby for Hollyburn Properties in Vancouver. Brass finish lights were designed and created for this beautiful location.  Random lighting concepts were created and drafted in Fusion 360. Our client Lightform was thrilled with the 3D images we were able to present to them.  SSDG made a few minor tweaks to the design and we were able to commence fabrication.
The lobby looks stunning, one can't help but notice the beautiful display of luminaires. The lighting display is impressive to say the least.
The lighting installation consists of eight chandeliers that are installed onto the ceiling j-boxes.  Each light is mounted with three j-box canopy mounting plates. The bulb chosen for the installation  greatly impacted the final appeal and look of these lights.  The bulbs selected are by  TALA
designer: Tala
code: Porcelain II 6W LED Bulb
Individually sandblasted, smooth dimmable LED filament lamp made of mouth-blown glass. This lamp uses 6 Watts of power and achieves 540 Lumens at a CRI of 95. It has an IP54 rating LED bulbs were selected by the team at Lightform.  And what a great choice they are.  Perfect for the light and room setting.
TALA BULBS
Specializing in low-energy LED lighting solutions that recall the warm glow of traditional luminaires, Tala's lighting solutions are both visually appealing and sustainable.
The British lighting brand's "conservation through beauty" mission is enacted in every design – from its Classic collection, inspired by the retro aesthetic of Edison bulbs, through to its Voronoi collection, inspired by patterns found in nature.
Creating bulbs that use 90 percent less energy and last 10 to 15 times longer than incandescent bulbs, Tala proves that every aspect of contemporary lighting should be designed with quality and longevity in mind. Designers love Tala's new sets: canopies that allow you to create linear or cluster installations with the brand's most beloved designs.
Enjoy your visit to the new lobby of Hollyburn Properties located at 1650 Alberni Street, in Vancouver British Columbia.