Darc #33 North American Report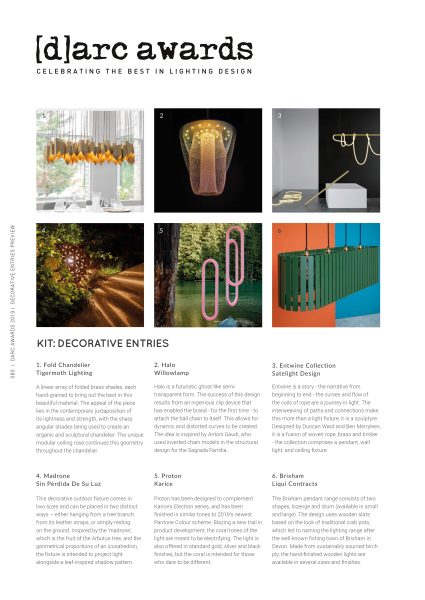 Cube Light Darc North American Report
Cube Light.  British Columbia-based lighting designer and manufacturer, Karice, has launched its latest product, the Cube.  A design that lay dormant since 2016 was brought to life again through inspiration from Lead Designer at Karice,
Maurice Dery's, grandchildren and the idea of carefree play with objects. The idea first came from the Rubik's cube.  "It was the bold colours and simple form that sparked the idea for a new design in the summer of 2016," explains Dery.  "As other projects became a priority, the Cube idea got shelved for some time until that spark of an idea was reignited.  Watching the children play and build with a carefree attitude, I wanted to create a light that was bright, playful and simple in form."  The shape, form and size of the fixture had been determined, but the challenge for the team was to create a light source.  "We knew we wanted the fixture to be bright with a high CRI index from an LED source, but we also knew we would be limited by the small constraints of the fixture," explained Dery.
"One of the main challenges we had to overcome was dealing with the amount of heat that would be generated. Our designer Jordan took on the task of developing the light source for the fixture. This included sourcing a suitable LED
for our requirements and designing and developing a heat sink that would manage the heat produced." The core of the fixture is comprised of a newly revised, custom proprietary aluminium extrusion that Karice designed and developed. The shape of the extrusion was fine-tuned over the years to accommodate the design needs as it changed and developed. "Further custom aluminium end caps were designed and produced in-house with our CNC milling
machine," elaborates Dery.
"Karice also manufactured the heatsink developed with the light source that we chose to use and a decisio was made in the early prototype stages to move away from using acrylic as our diffuser material. We began working with a local
company to develop a new lens made from polycarbonate. Since polycarbonate can be extruded, we were able to design a profile better suited for our aluminium extrusion.  "The use of the polycarbonate lenses is a great product
improvement as the ease of installation and removal of the lens was significantly improved. We were able to balance the amount of light emitted, while still hiding the light source and eliminating hotspots."
Cube Light, the bright colours of this fun product give it its stand out character. The fixtures are available as both downlights as well as with a side lit option. There is also a selection of standard colours for those wanting to obtain a more conservative look.