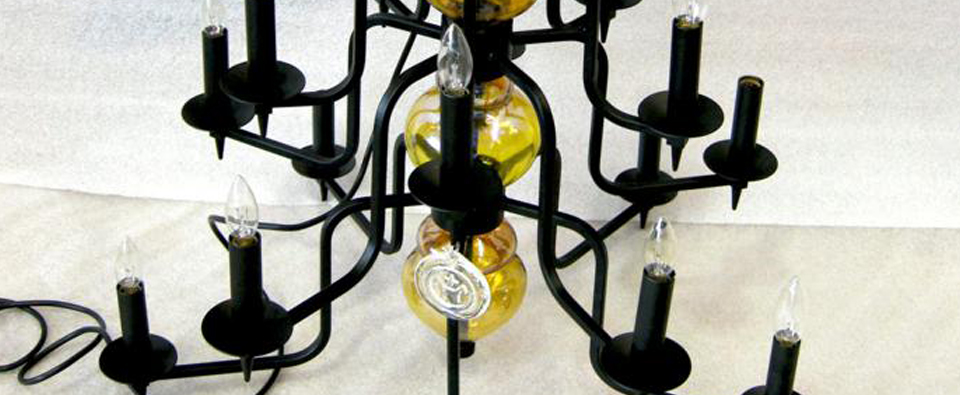 Custom Lighting for Aritzia
New Replica Custom lighting design –  Vintage lights are recreated with a revised design for the Artizia fashion boutiques across North America.
Aritzia approached us to replicate a light fixture they had brought over from Europe. Not only did they want us to reproduce it,  they also wanted us to add an additional tier to the light.   The original light consisted of two lighting layers,  the new light required 3 lighting layers.   This affected the overall design of the light.  The new light was much taller and wider in shape.
Conceptual designs were first drafted in AutoCAD.  Once approved, Karice went to work to craft the new light.  The new light had fifteen candelabra bulbs. Special custom candle holders were created for the chandeliers.  Each candle holder had a custom machined finial that was attached to the underside of the candle cup.  The lights were finished in a matte black finish.  Once wired up, the lights were UL Certified for the destined homes in various locations in the US chain for this classy clothing store.
Challenges along the way included sourcing the material for this project.  It required 3/8″ square tubing.  This size tubing was not available in Canada.  Luckily, we are close to border, and the correct tubing was sourced from a supplier in Seattle, WA.
Another challenge in the project was the glass.  Our glass blower had custom moulds made to achieve the bulbous shapes.  This ensured that all lights were made with identical glass for the fourteen lights that were crafted and shipped across Artizia's North American chain.    Glass medallions were also made for this project.  Using our CNC milling machine, unique "STAMP" shapes were created so that an impression could be stamped into the hot molten glass.  Aritzia was very happy with the finished custom chandelier, which can be seen in many of their retail stores across North America.