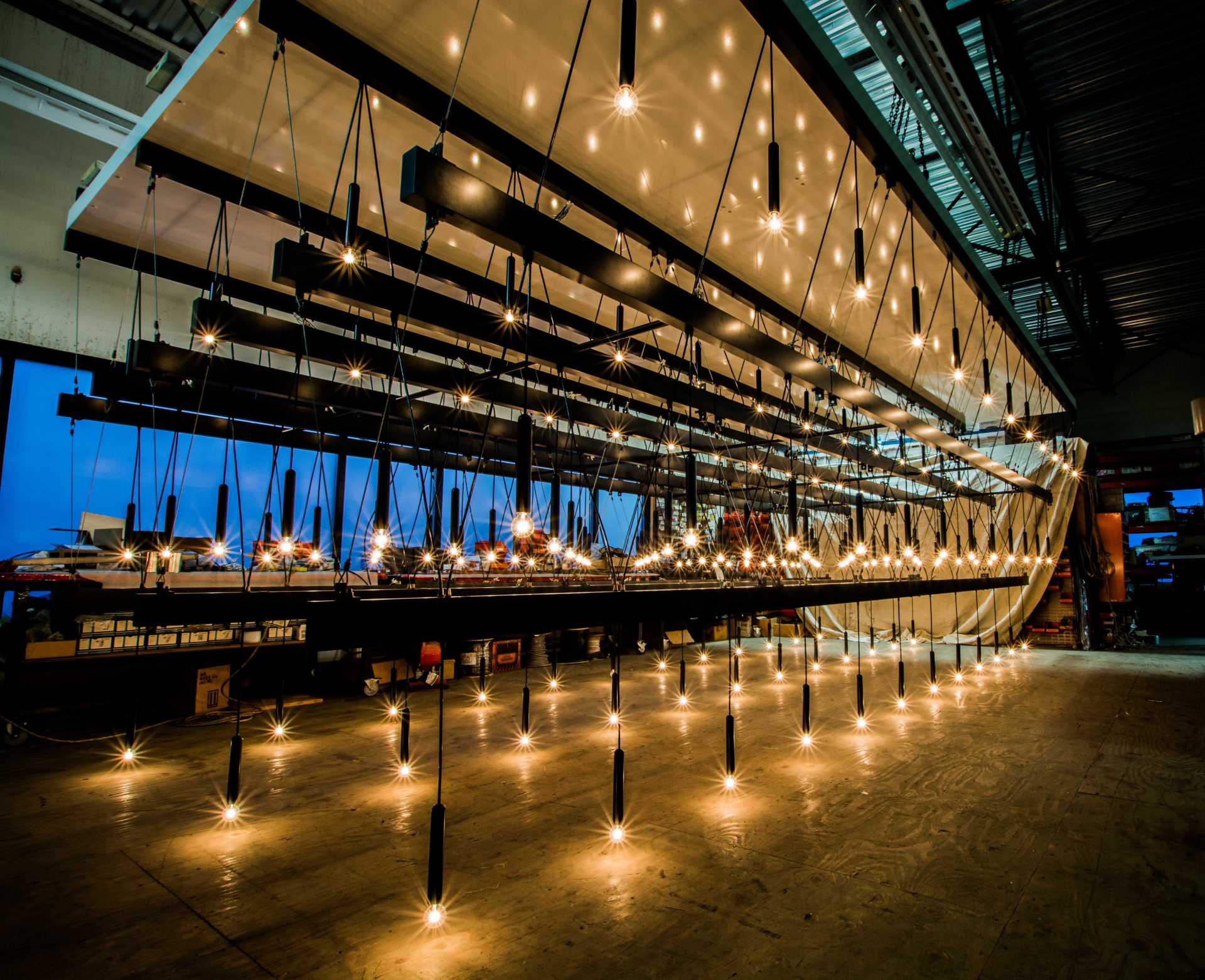 Earls Dadeland Custom Chandelier
Karice was contracted by Earls to make this huge custom chandelier for their new location in Miami, Florida, U.S.A. Jenn Hoffbeck of the Earls design team came to Karice with the design concept intended for the new location in Miami. The light is huge at 24 feet x 12 feet in size. It is constructed with an aluminum canopy system that Karice has designed to suspended multiple lighting configurations for commercial spaces such as the installation in Miami. In all, twelve modular canopies were designed and crafted for the restaurant. The canopies were finished in a white color, so as to blend in with the white ceiling. Aluminum tubing was used in the project to suspend 156 pendants. The pendants had custom domed caps attached to the socket covers. Candelabra sockets were used for this project and G16.5, 15 watt bulbs lit up the space over the dining area of the restaurant.  The aluminum wire chases and pendant lights were finished in a matte black powder coat.
Using large scaled aluminum tubing, wire chases were created to suspend the multiple lights. 156 individual pendants were suspended on three different levels, cascading down to create an installation height of almost 10 feet. The wiring of the light was a a challenge. In the end a system was engineered to wire 39 lights into 3 ceiling canopies.
Shipping this huge light from Vancouver to Miami was an enormous hurdle. Custom crates containing tiered steps had to be designed by team Karice to ensure a safe journey to travel across the North American continent. Once the product arrived in Miami, and special night time delivery had to be arranged to off load the three large shipping crates using a crane. Project manager Kirsten Bray, was relieved to have the installation completed.
Thanks to the Earls Design Team for their ever innovative ideas and concepts.