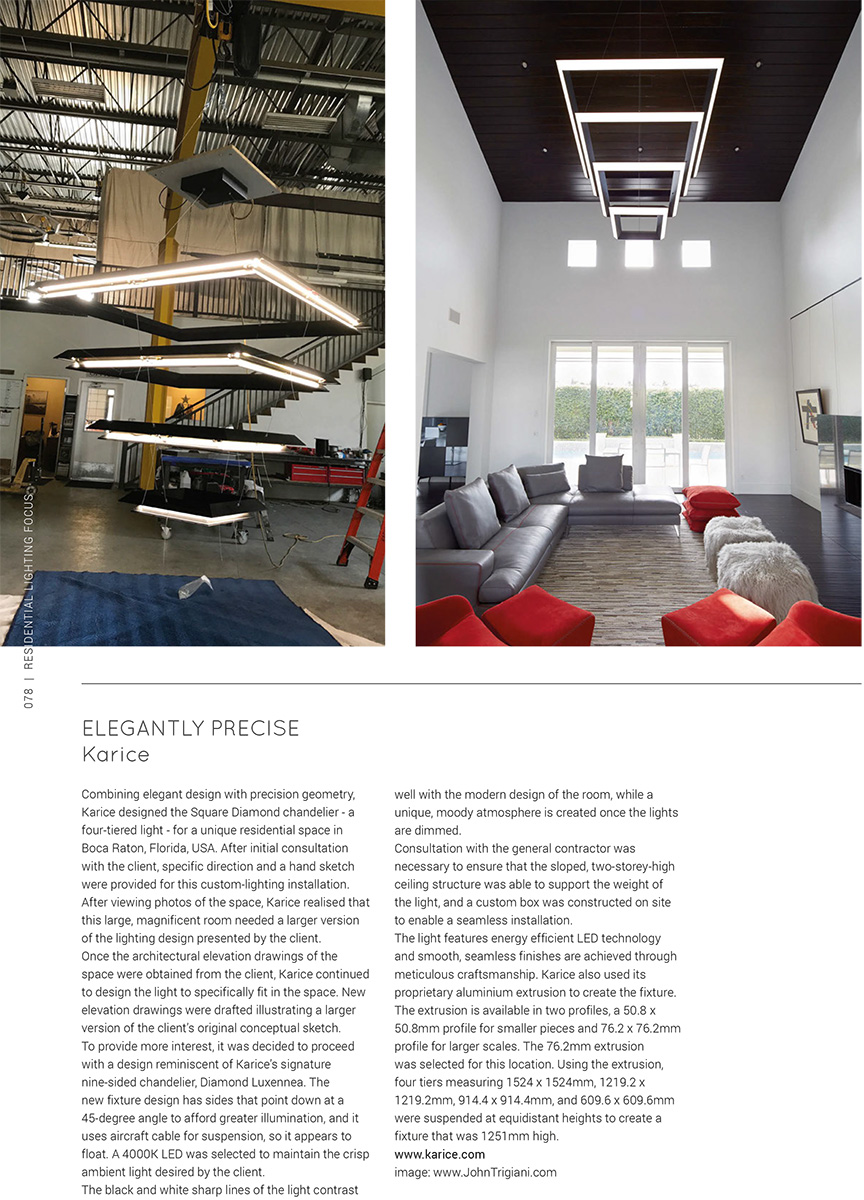 Darc #34 – Custom Square Diamond Light
Custom Square Diamond Light – Custom Lighting for Florida Home
Custom Square Diamond Light.  Combining elegant design with precision geometry, Karice designed the Square Diamond chandelier – a four-tiered light – for a unique residential space in Boca Raton, Florida, USA. After initial consultation with the client, specific direction and a hand sketch were provided for this custom-lighting installation.
After viewing photos of the space, Karice realized that this large, magnificent room needed a larger version of the lighting design presented by the client.  Once the architectural elevation drawings of the space were obtained from the client, Karice continued to design the light to specifically fit in the space. New elevation drawings were drafted illustrating a larger version of the client's original conceptual sketch.  To provide more interest, it was decided to proceed
with a design reminiscent of Karice's signature nine-sided chandelier, Diamond Luxennea. The new fixture design has sides that point down at a 45-degree angle to afford greater illumination, and it uses aircraft cable for suspension, so it appears to float. A 4000K LED was selected to maintain the crisp ambient light desired by the client. The black and white sharp lines of the light contrast well with the modern design of the room, while a unique, moody atmosphere is created once the lights are dimmed.  Consultation with the general contractor was necessary to ensure that the sloped, two-story-high ceiling structure was able to support the weight of the light, and a custom box was constructed on site to enable a seamless installation.  The light features energy efficient LED technology and smooth, seamless finishes are achieved through meticulous craftsmanship. Karice also used its proprietary aluminum extrusion to create the fixture.  The extrusion is available in two profiles, a 50.8 x 50.8mm profile for smaller pieces and 76.2 x 76.2mm profile for larger scales. The 76.2mm extrusion was selected for this location. Using the extrusion, four tiers measuring 1524 x 1524mm, 1219.2 x 1219.2mm, 914.4 x 914.4mm, and 609.6 x 609.6mm were suspended at equidistant heights to create a fixture that was 1251mm high.