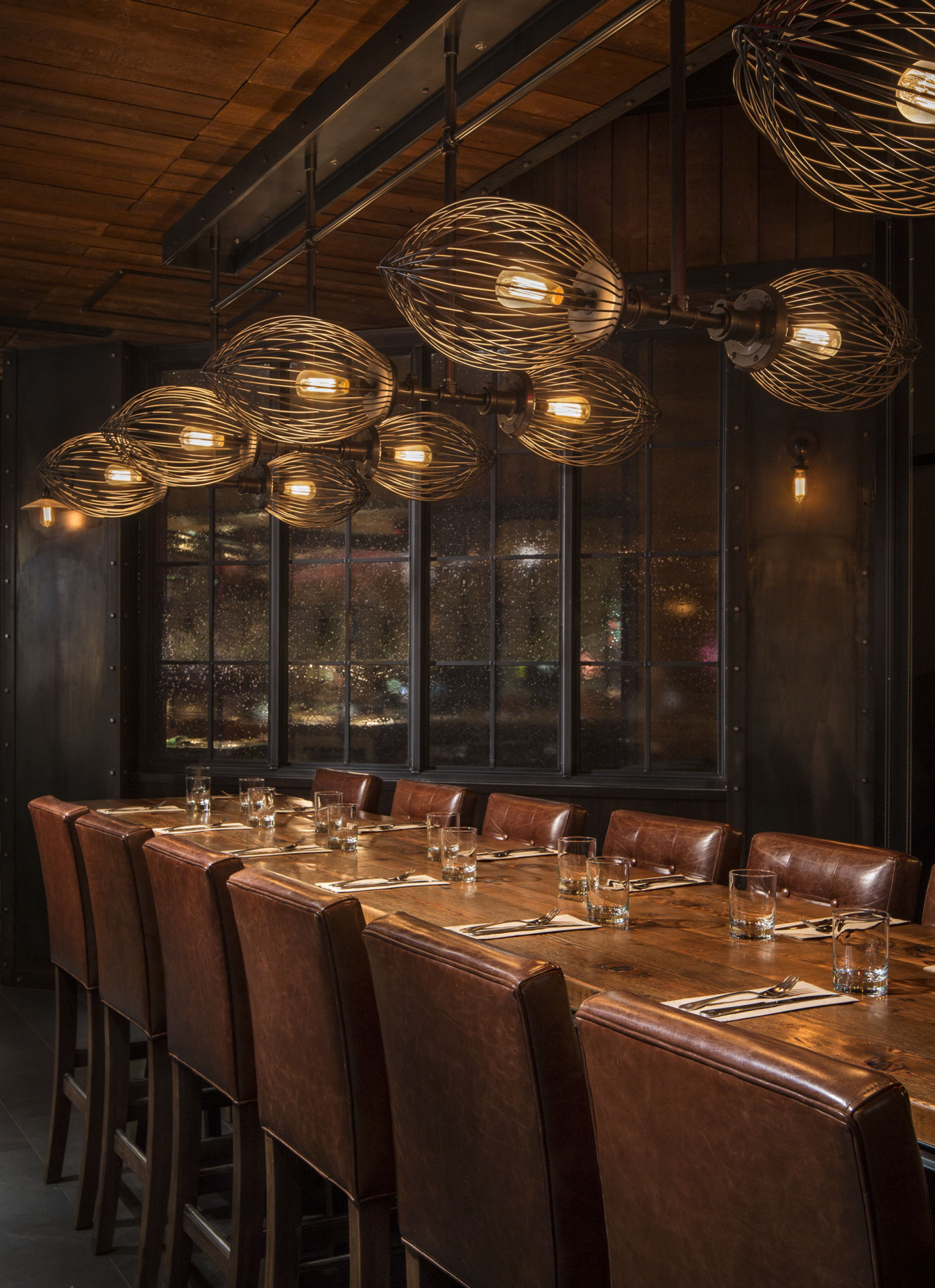 Earls Tin Palace (Edmonton)
Custom Lighting Metalwork for Earls Tin Palace Edmonton – Jasper Avenue
A new renovation was slated for the existing flagship location on Jasper Avenue, in Edmonton, Alberta. The Earls Design team's creativity had massive plans for this location. Karice was able to assist with many aspects of the newly renovated Earls Tin Palace location in Edmonton.
Earls design team first task was to update the lighting with an industrial appeal. A huge dining light installation was conceptualized by the team. Karice worked with Earls to create a huge chandelier that was installed in the dining room. The installation is 11-feet by 45-feet. The design included eighteen industrial faux beams and twenty-three lights that mimicked crane trucks. Clear coated black iron accentuated the appeal of the fixtures. All fixture design and engineering was completed by the team at Karice.
A custom bar chandelier was also required to suspended over the new bar height table. The lighting creation utilizes commercial kitchen mixing whisks as the shade around each of the light bulbs. The industrial glass windows were also created by Karice.
Custom Architectural Metalwork
Unique metal mirror frame with an industrial flair were created for the space.
Kudos to the great job in interior design space by the Earls Design Team.
Contact Us Today for More Info About Us and Our Innovative Metal and Lighting Design
Our products in this Earls location demonstrate our custom metal and lighting design expertise.  Stunning artistry. Sophisticated design. Seamless process. That's the Karice way, and what we've experienced with all our clients. For more information about us or to see how we may collaborate with you or build custom lighting works for you, contact us by sending us an email or calling us at 604-542-7137.