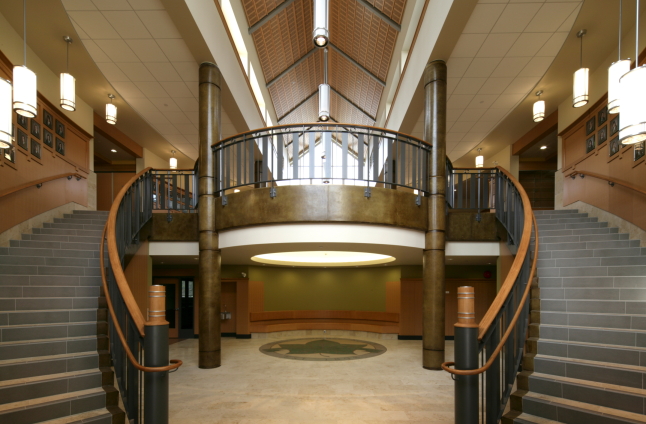 Crofton House School Railings
Crofton House School Railings.
Crofton House School is a prestigious private girls school in Vancouver, BC.  It is located in the neighbourhood of Kerrisdale in Vancouver, British Columbia, Canada and is a university-preparatory school for girls that is ranked first in British Columbia, according to Fraser Institutes school rankings.
Our client contacted us to build a custom railings for Crofton House School in Vancouver.  We were honored to be able to work on this high profile project.
Railings were designed by John Verchomin of Cornerstone Architecture in Vancouver.  General contractor, Haebler, employed the services of Karice to supply and install the architectural metalwork components of the new school expansion.
Another key area of the project was the terrazo flooring that was installed in the entrances of the school.  Two 12ft diameter aluminum frameworks were manufactured by Karice to enable the flooring company to complete the task.  The end result was a beautiful flooring feature.
The main feature in this project was the striking curved dual staircase in the foyer.  The metal work marrying with the architectural millwork details casts an element of interest in the design.
Railings were made for both the interior and exterior areas of the project expansion.
Have a look at the photos, I'm sure you will agree that the railings in this school are stunning.
Interior and Exterior Railings. Framework for 12ft diameter Terrazzo Floor Detail
Contact Karice to design the perfect architectural metalwork.