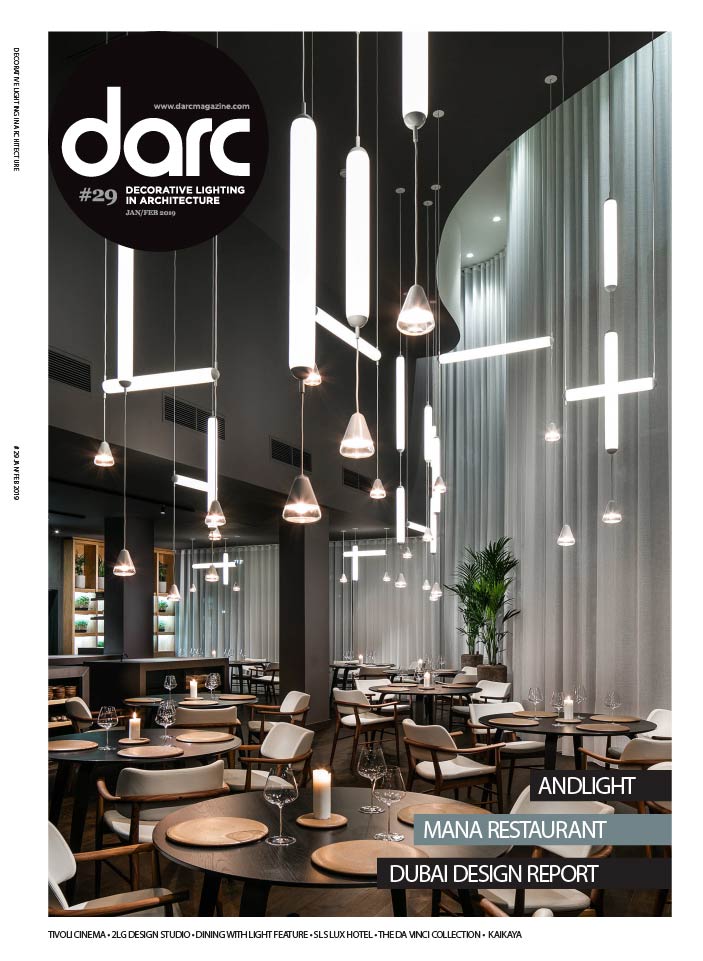 Darc #29 Resurrecting Da Vinci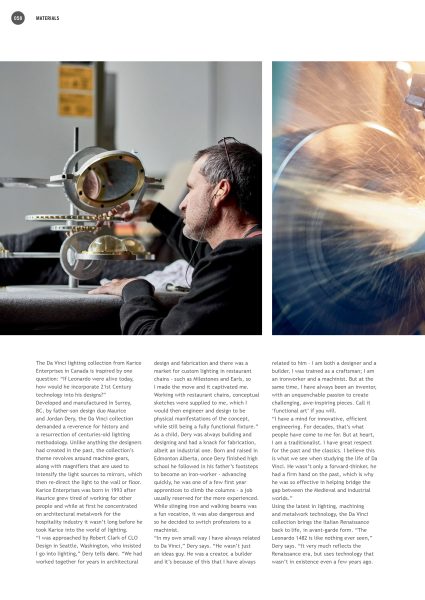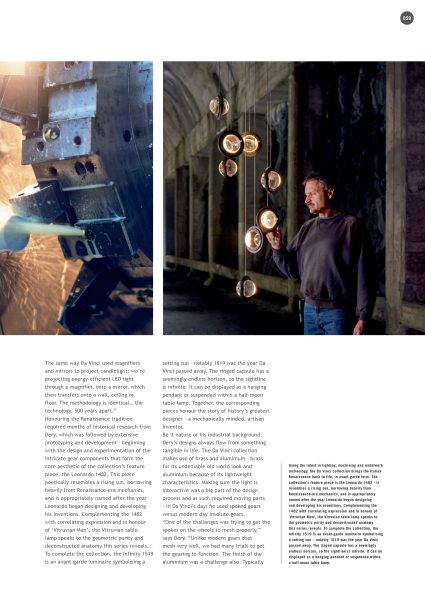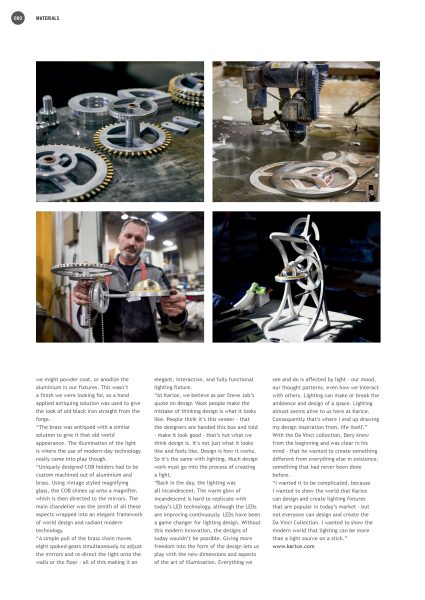 Darc Resurrecting da Vinci
The Da Vinci lighting collection from Karice Enterprises in Canada is inspired by one question: "If Leonardo were alive today, how would he incorporate 21st Century technology into his designs?" Developed and manufactured in Surrey, BC, by father-son design duo Maurice and Jordan Dery, the Da Vinci collection demanded a reverence for history and a resurrection of centuries-old lighting methodology. Unlike anything the designers had created in the past, the collection's theme revolves around machine gears, along with magnifiers that are used to intensify the light sources to mirrors, which then re-direct the light to the wall or floor.
Karice Enterprises was born in 1993 after Maurice grew tired of working for other people and while at first he concentrated on architectural metalwork for the hospitality industry it wasn't long before he took Karice into the world of lighting. "I was approached by Robert Clark of CLO Design in Seattle, Washington, who insisted I go into lighting," Dery tells darc. "We had worked together for years in architectural design and fabrication and there was a market for custom lighting in restaurant chains – such as Milestones and Earls, so I made the move and it captivated me.
Working with restaurant chains, conceptual sketches were supplied to me, which I would then engineer and design to be physical manifestations of the concept, while still being a fully functional fixture." As a child, Dery was always building and designing and had a knack for fabrication, albeit an industrial one. Born and raised in Edmonton Alberta, once Dery finished high school he followed in his father's footsteps to become an iron-worker – advancing quickly, he was one of a few first year apprentices to climb the columns – a job usually reserved for the more experienced. While slinging iron and walking beams was a fun vocation, it was also dangerous and so he decided to switch professions to a machinist.
"In my own small way I have always related to Da Vinci," Dery says. "He wasn't just an ideas guy. He was a creator, a builder and it's because of this that I have always related to him – I am both a designer and a builder. I was trained as a craftsman; I am an ironworker and a machinist. But at the same time, I have always been an inventor, with an unquenchable passion to create challenging, awe-inspiring pieces. Call it 'functional art' if you will. "I have a mind for innovative, efficient engineering. For decades, that's what people have come to me for. But at heart, I am a traditionalist. I have great respect for the past and the classics. I believe this is what we see when studying the life of Da Vinci. He wasn't only a forward-thinker, he had a firm hand on the past, which is why he was so effective in helping bridge the gap between the Medieval and industrial worlds."
Using the latest in lighting, machining and metalwork technology, the Da Vinci collection brings the Italian Renaissance back to life, in avant-garde form. "The Leonardo 1482 is like nothing ever seen," Dery says. "It very much reflects the Renaissance era, but uses technology that wasn't in existence even a few years ago.
Darc Resurrecting da Vinci.