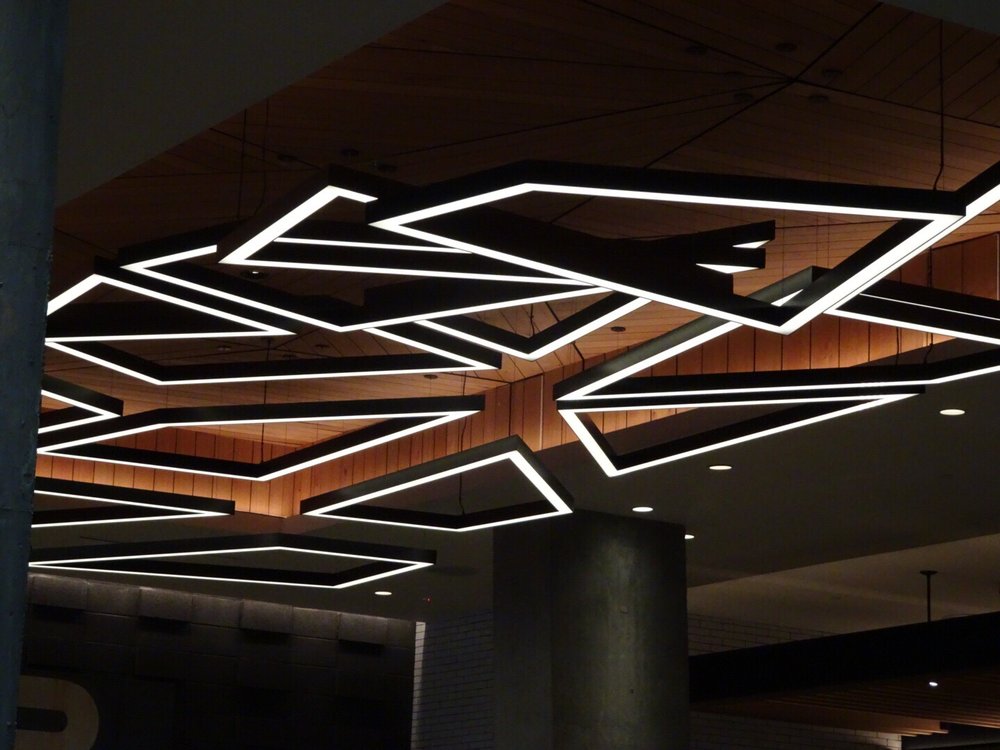 Earls Tysons Corner (Virginia) Custom Lighting
Custom Lighting for Earls Tysons Corner (Virginia)
Lighting was a collaborative effort in 2014 between a local lighting designer, Earl's Design team and Karice Enterprises Ltd.
Working together with the Earl's design team and a local lighting designer in 2014, Karice helped refine and realize this light in the face of site-specific and budgetary constraints.
Earls Tyson's Corner Custom Lighting Installation
Earls Tyson's Corner – Fixture F17
Four specific custom lighting projects were designed and built for the Earls Tyson's Corner Restaurant in Virginia, DC>
The main piece was the Custom Lighting Installation in the Dining Room.  Approximately 14ft x 28ft in size, fifteen (x15) random geometric shapes were suspended from a custom mill work ceiling.  Each light was suspended at varying elevations creating a visually captivating display.
Custom Bar Lighting – Fixture F21A and F21B
In the bar, two large fixtures were designed using custom socket housings, custom glass diffusers and LED bulb illumination.
Custom Genuine Brass Wall Sconces were made.
Custom Outdoor light fixtures on the Outdoor Patio.
Contact Us Today for More Info About Us and Our Innovative Metal and Lighting Design
Our products in this Earls location demonstrate our custom metal and lighting design expertise.  Stunning artistry. Sophisticated design. Seamless process. That's the Karice way, and what we've experienced with all our clients. For more information about us or to see how we may collaborate with you or build custom lighting works for you, contact us by sending us an email or calling us at 604-542-7137.